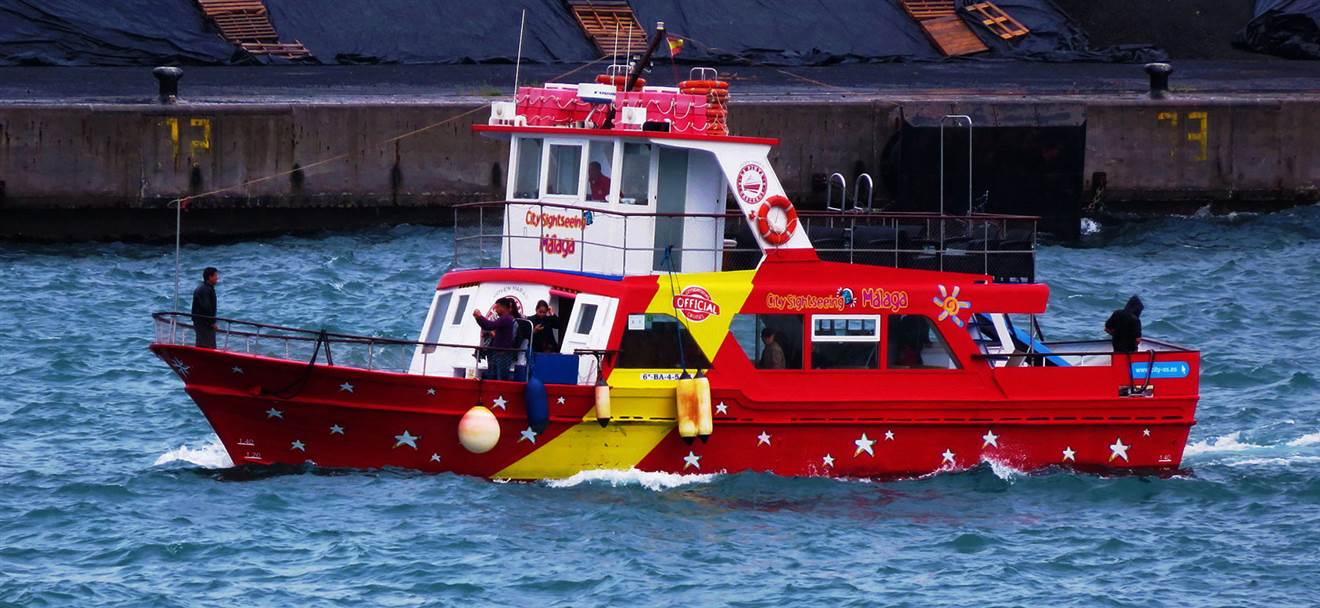 Bus + Boat + Walking Tour
To product
Despite its fame is due to its beautiful beaches and its privileged climate, the city of Malaga has a lot more to offer: a rich historic and artistic heritage, important museums and galleries, cultural festivals, traditional celebrations and a wide range of recreational activities, place it as a city of reference in Spanish tourism.
City Sightseeing Malaga takes visitors to different points of interest, informing them through an audio guide available in several languages and bringing them closer, from the top deck of the panoramic buses, to the most significant monuments of the city. The tourist bus in Malaga has two lines: Line 1 goes through the sights of the city, passing by the Ave Bus Station, Museum of Contemporary Art, Puerto, Paseo del Parque, Paseo de la Farola, Malagueta beach, Plaza de Toros, Gibralfaro Castle, Basilica de Santa Maria de la Victoria, Plaza de la Merced, Alcazaba, Cathedral and Alameda Principal. Line 2 extends the route up to the Botanical Gardens and the Automobile Museum of Malaga.
The visitor of Malaga can enjoy the most spectacular views of the city from a different viewpoint and, additionally, get to know the pedestrian area with a walking tour of the centre of Malaga, where vehicles don't have access.
20 stops
RED ROUTE:
Bus Stop #1 – Museo Carmen Thyssen
Bus Stop #2 – Centro de Arte Contemporaneo
Bus Stop #3 – Puerto de Malaga
Bus Stop #4 – Paseo del Parque
Bus Stop #5 – Paseo de la Farola. Muelle 1
Bus Stop #6 – Farola. Faro Portuario
Bus Stop #7 – Playa de la Malagueta
Bus Stop #8 – Plaza de toros de la Malagueta
Bus Stop #9 – Castillo de Gibralfaro
Bus Stop #10 – Basilica de Sta.Maria de la Victoria
Bus Stop #11 – Casa de Picasso
Bus Stop #12 – Catedral
Bus Stop #13 – Alcazaba
Bus Stop #14 – Teatro Romano
Bus Stop #15 – Museo Picasso Malaga
GREEN ROUTE:
Bus Stop #16 – Museo de Malaga Club de Futbol
Bus Stop #17 – Estacion Autobuses Malaga
Bus Stop #18 – Estacion Tren Alta Velocidad - Vialia
Bus Stop #19 – Museo del Automovil
Bus Stop #20 – Jardin Botanico
Tour Frequency :
Every 20 minutes
8 Languages :
English, Spanish, French, German, Italian, Dutch, Portuguese, Russian
Uninterrupted Service from 9:40am to 8pm
Duration: 1 Hour 20 Minutes

Departs from:
Bus Stop #1 – Museo Carmen Thyssen
Boat Tour Information
You can now find the bright red City Sightseeing brand not only on the road, but also on the water. Hop on board one of our boats for a 1 hour round trip around the beautiful Malaga bay and take in the breathtaking views of the city from a new perspective, whilst capturing a glimpse of the wildlife the ocean has to offer. 

Timetable: 12:00, 13:30, 15:30 & 17:00
Departs from: Stop 6 - Farola. Faro Portuario
Duration: 1 Hour


Walking Tour Information
Discover the most emblematic parts of Malaga at the hand of an official guide and learn about all the history, legends and traditions the city has to offer. You'll pass the remains of Roman, Moorish and Christian civilizations and stroll around the historical center where you'll be able to see the Picasso Museum, the Thyssen Museum and Larios Street.
Timetable:
 11:45, 13:00
Languages:
 English & Spanish

Departs from:
 Stop 13 - Alcazaba
Duration:
 1 Hour