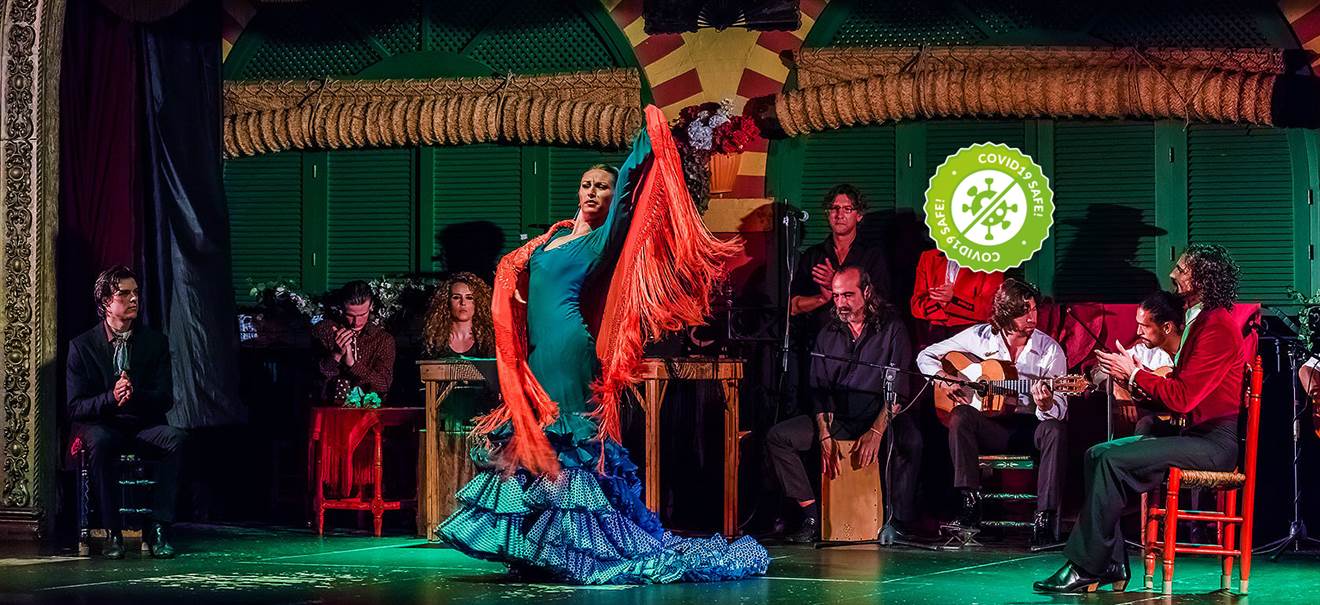 Flamenco Show Special (including guide and visit to Flamenco Show)
To product

Covid Safe
Seville is the home of the Flamenco Show! Come and see the best Flamenco Show in town with your own guide who can tell you all about this dance with many hidden meanings! includes a visit to a Flamenco Show.
No Seville without a real FLAMENCO SHOW! This dance style originated in Seville and has many hidden meanings. For you we have developed a special, non-touristic show. Unlike other Flamenco shows in Seville, our English speaking Flamenco specialist explains you first in 30 minutes the 'ins and outs' of flamenco from.
After this you will look differently at Flamenco! Then you go with the specialist to an authentic Flamenco show in a typical Peña (type of clubhouse), which is mainly frequented by locals. Pure Flamenco, pure artistic, pure Seville, just for you!
COVID-19 SAFETY MEASURES  
Due to the pandemic situation and to protect you and those around you, visits will allowed with the following sanitary norms and regulations: 
Wearing a face mask can be required.
Distance between visitors is obligatory.
Guests may be subject to a temperature check.
Visit time may be limited.
Always follow the staff instructions.
WHY IS THIS PRODUCT CORONA SAFE? 
Hand sanitiser available 
Encouragement of mask wearing can be compulsory. Bring it when you can
Reduced capacity and distancing measures on the vehicles/vessels
Staff will encourage visitors to keep distance
By buying the tickets all visitors  declare that they do not have cold-like symptoms such as nasal congestion, a runny nose, sore throat, light cough, fever (up to and above 38°C) and/or shortness of breath.
When you book a ticket, you automatically agree with our Terms and conditions.
Highlights
Refreshing drink

English speaking Flamenco specialist who tells you all about this remarkable dance
Visit to one of the best Flamenco Shows in Seville
30 min. explanation and instruction
1,5 hrs authentic live Flamenco show at Mercado de Triana
Departure time and location
Every day of the week at 18.00h from Hotel Amadeus. You need to make a reservation in advance. 



Duration 
2 hour and 30 minutes

Other Information: 
The show is suitable for disabled people.