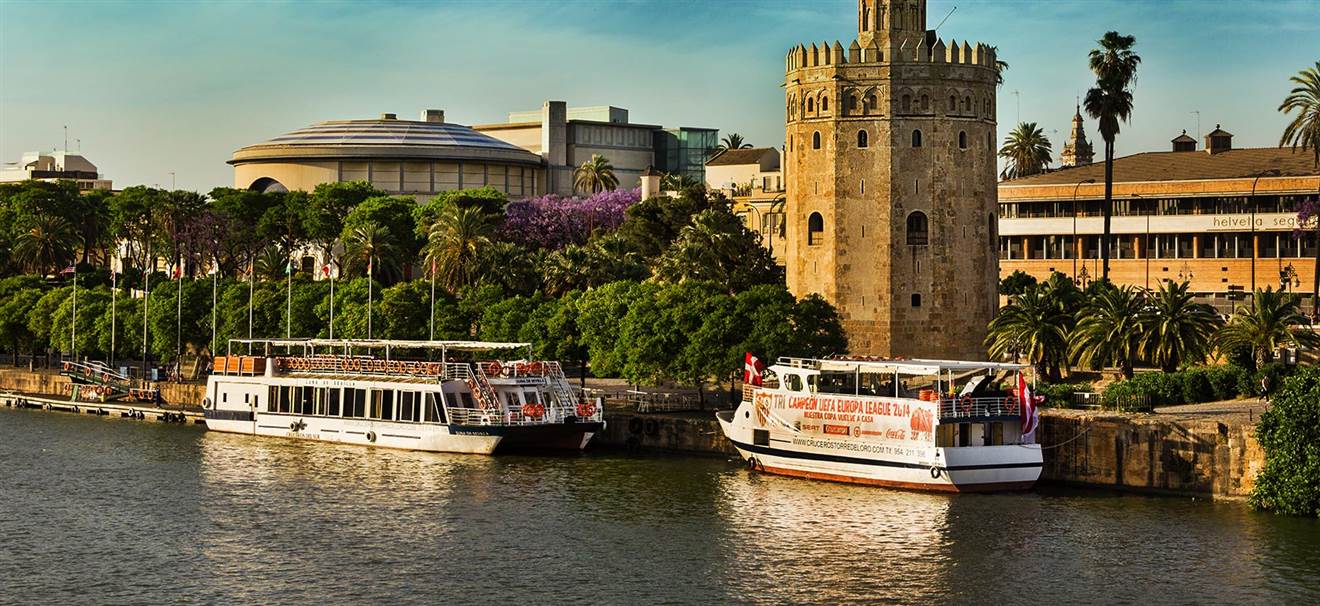 Guadalquivir Cruise (SVQGUADA)
To product
See Seville from a unique position and enjoy privileged views of the city. The Guadalquivir river is a large ancient river that goes through Andalusia and is over 700 km in length and connects the capital of Andalusia, Seville, with the Atlantic Ocean. In fact its name come from the Arabic "al-Wadi al-Kibir", translated as "big river".


From the deck of one of our modern and spacious boats you can see the Guadalquivir banks, where great works are located, such as the Plaza de Toros de la Maestranza, the old bridges, the mythical Barrio de Triana, the pavilions of international exhibitions celebrated in Seville, the towers of the Plaza de España and numerous buildings that, in the past, chose to settle on the banks of the big river. The river became a strategic point of vital importance to Seville in terms of access to the New World. This was the place where the merchant ships berthed, at the Port of Seville, loaded with gold, silver, tobacco and other valuable goods in high demand.

Seethe Monastery of Santa Maria de las Cuevas, located on a small island in the Guadalquivir known as Isla de la Cartuja, where Christopher Columbus planned his trip across the ocean looking for India.

Feel the history of Seville from the magical perspective of the water, go with the river current under the bridges and gaze at the beautiful skyline of an unique and incredible city.

Highlights:
- The Guadalquivir is the river that crosses Sevilla being in addition the unique navigable river in Spain. Unbeatable views of the city are contemplated from its waters.
- The Plaza de Toros de la Real Maestranza, the Barrio de Triana and the Towers of Plaza España are three of the most distinguished monuments that can be looked at from the Guadalquivir and breath the magic essence of Seville.
- The Monastery of Santa María de las Cuevas is located in the Isle of la Cartuja. Here Cristopher Columbus documented himself before defending its arguments to start the journey to the New World.
Included:
- Audio guide of every monument you will see from the boat
- Ticket for the Guadalquivir cruise
Departure times:
The tour runs daily in every hour from 11:00 am to 22:00 pm.


Please be at the meeting point 15 minutes before the tours starts!

Closed: 25/12 & 01/01.



Departure point: 
Torre del Oro Pier (Cruceros Torre del Oro)