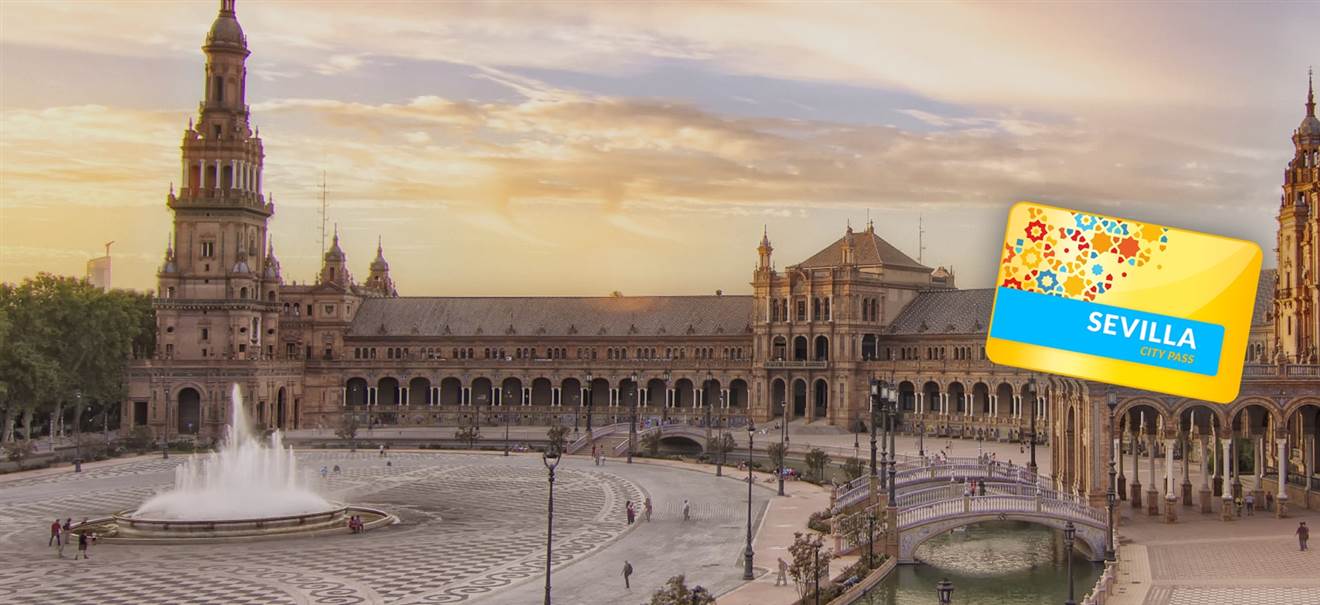 Seville City Pass (Alcazar Royal Palace and Cathedral)
To product

Covid Safe
The seville city pass cobines all the essentials to make your days in seville an unforgettable experience!
Why book the Seville City Pass? 
Fast-track tickets to the Alcazar Royal Palace 
Fast-track tickets to the Seville Cathedral 
Audioguide included in 6 languages for the Alcazar and the Seville Cathedral
Enjoy Seville with the Hop on Hop off Bus: 12 stops (includes free audioguide in several languages)
Receive 20% discount to numerous attractions (Guadalquivir Cruise, Flamenco Shows, FC Sevilla games, Tapas Tours, guided tours and excursions)
Optional: Three Day Tourist Travel Card: Unlimited public transportation for all the busses, trams and metro in Seville.
Everything online - 100% mobile! No need to print or pick-up your tickets
The ultra-convenient Seville City Pass includes skip-the-line entrance to the city's most famous destinations, and discounts to countless further attractions. Even better, you receive everything by email so that you don't waste time picking it up when you arrive.


Which means it's easier than ever to maximise your precious time in Seville by organising everything in advance. Simply order your Seville City Pass(es) online  and you're ready for all that this wonderful city has to offer.


How does it work? 
Enter the date of your arrival. 
Enter the amount of City Passes you want.
Finish the payment process by filling in your personal information.
After completing the booking process, you will receive a separate email with a link. Please enter the exact date and time you would like to visit the Alcazar Royal Palace and the Seville Cathedral. 
Receive your tickets via email and save them on your mobile. No need to print them out, as they will be scanned directly from your mobile phone. 
You will receive a discount code by email which you can use online to make reservations for all the rest you want to visit in Seville: e.g. Guadalquivir Cruise, Los Gallos Flamenco Show and much more!  Click here to see an overview of the attractions included in the discount section. 


Important to know 
Receive immediate confirmation of your purchase via e-mail. 
Get your electronic tickets sent to your mobile - no need to print
Fast Track Tickets to the Alcazar Royal Palace and Seville Cathedral
Get to know the city with 12 stops with the official Hop on Hop off Bus 
A discount code of 20% for countless attractions and excursions including Real Guadalquivir Cruise, Matches of FC Sevilla, Flamenco Show Los Gallos, guided tours and many more! 
COVID-19 SAFETY MEASURES  
Due to the pandemic situation and to protect you and those around you, visits will allowed with the following sanitary norms and regulations: 
Wearing a face mask can be required.
Distance between visitors is obligatory.
Guests may be subject to a temperature check.
Visit time may be limited.
Always follow the staff instructions.
WHY IS THIS PRODUCT CORONA SAFE? 
Hand sanitiser available 
Encouragement of mask wearing can be compulsory. Bring it when you can
Reduced capacity and distancing measures on the vehicles/vessels
Staff will encourage visitors to keep distance
By buying the tickets all visitors  declare that they do not have cold-like symptoms such as nasal congestion, a runny nose, sore throat, light cough, fever (up to and above 38°C) and/or shortness of breath.
When you book a ticket, you automatically agree with our Terms and conditions.
FAQ
The most Frequently Asked Questions regarding the Seville City Pass.
Buy your ticket
on Ticketbar
Get your ticket
via e-mail
Show your ticket
on your phone
25 reviews
Today's quote
Great city pass!
Reviews of Seville City Pass (Alcazar Royal Palace and Cathedral)
25 reviews
5
The taxi driver was waiting for us at the Airport with our names on the board! So kind
5
In 2 months I'm planning to travel back to Sevile - also with Ticketbar
4
Booking process has never been so pleasant!
5
I fell in love with Seville, thank you Ticketbar
5
Easy booking process, tickets on my e-mail within a few minutes - best option ever!
5
I will definitely recommend Sevilla City Pass from Ticketbar to my friends and family