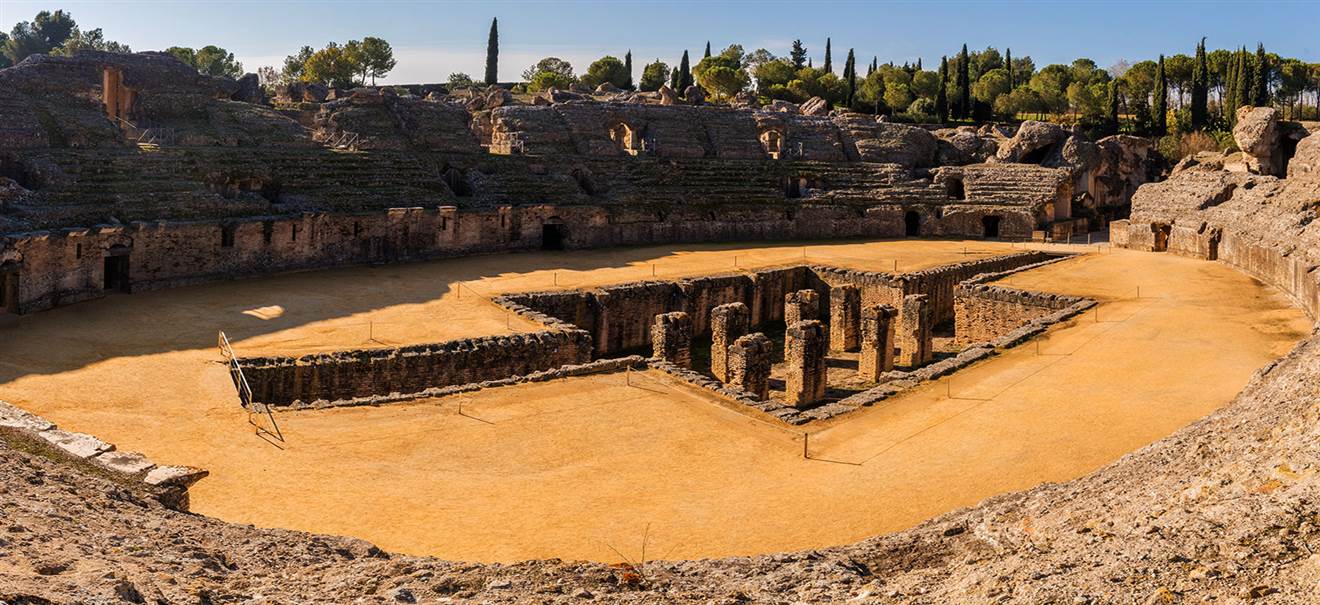 Italica City of Rome (SVQITALI)
To product
Discover Italica the first authentically Roman city in Spain, located just 15 minutes from Seville. It was founded in 206 B.C. by the Roman general Publius Cornelius Scipio Africanus and was the birthplace of two Roman emperors, Trajan and Hadrian. 
Currently called Archaeological Ensemble of Italica, visitors today can enjoy walking the old streets and exploring the ruins of the houses and public buildings. One spectacle which must be seen is the amphitheater. It had a capacity for 25,000 people and was the third largest one in the Roman Empire. 
Other important sights include the mosaic floors, the Traianeum, The statues of Diana, Venus and Trajan, The public baths and the partly reconstructed Roman theatre in Santiponce. Thanks to the fact that none of the following civilizations settled over the ruins of Italica it is quite a well-preserved city and well worth a visit.  
After this unforgettable experience, we will do a panoramic tour of the city of Sevilla by bus, where you can see the more emblematic monuments of the city:  Puente Triana, Calle Betis, Plaza de Toros and Torre del Oro before dropping you off in the city center.
Highlights:
Itálica was the first Roman city in Spain and was founded in 206 B.C.
The Roman Theatre is so well preserved. It had a capacity of 25.000 spectators and there were played tragic and comedic plays and mime shows.
The Traianeum is the temple dedicated to the emperor Trajan located at one of the Nova urbs squares and surrounded by a porticoed square.
La Torre del Oro is located on the bank of Guadalquivir River. The reflection of the sun in the tower make it look golden, as its name itself.
Languages:
English and Spanish
Departures:
Tuesday, Thursday and Saturday
Between 9:00 and 12:00 am
Duration:
Approx. 4 hours
Departure point:
Torre del Oro
Inclusions:
Official Tourist Guide.
Entrance fees to Italica.
Panoramic tour of the city of Sevilla by bus
Exclusions:
Lunch, beverages or other services not specified 
ADDITIONAL INFORMATION
Due to the length of the walking tour, we recommend you to wear comfortable shoes and drink sufficient water during the walk. Please keep in mind that the excursion includes several visits on foot. The order of the visit can be changed to any unexpected circumstances.