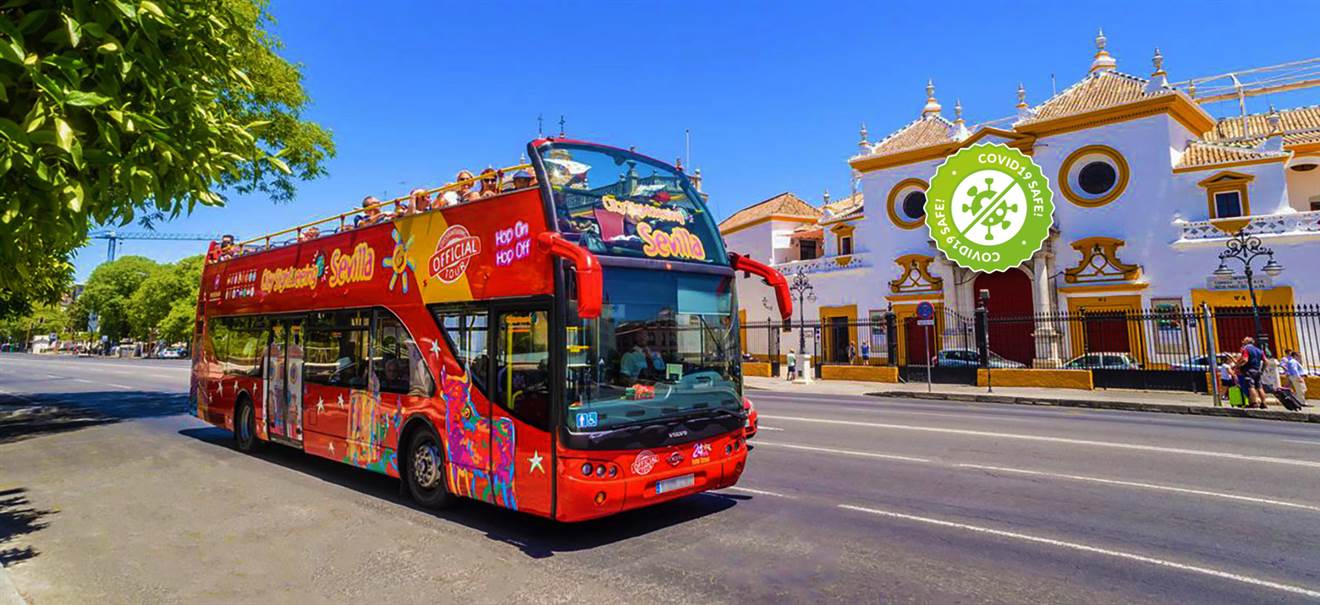 Sevilla Hop on Hop off Bus
To product

Covid Safe
The most comfortable way to explore all the wonderful highlights that Sevilla has to offer!
Sevilla is the artistic, cultural, and financial capital of southern Spain. The city is a historical masterpiece full of Islamic monuments, gardens and Flamenco festivals. Enjoy a tour around the city and hop on and off at your convenience. Let Ticketbar highlight all the things to do and places to go during your stay. Included is a free ticket for the Church of Salvador and the Torre de los Perdigones as well as a guided walking tour on offer through Parque Maria Luisa, Santa Cruz, Macarena & Triana.

You will see the splendid Torre del Oro (Tower of Gold) built by the Almohad dynasty as a watchtower and defensive barrier on the river. Hop off and visit the Puente de San Telmo (bridge of San Telmo), the University of Seville and the Casino de la Exposicion (Casino Exhibition Hall). The Casino Exhibition displays the work of the Valencian architect Vicente Traver and Thomas, who used elements of Baroque design.
COVID-19 SAFETY MEASURES
Due to the pandemic situation and to protect you and those around you, visits will allowed with the following sanitary norms and regulations: 
Wearing a face mask can be required.
Distance between visitors is obligatory.
Guests may be subject to a temperature check.
Visit time may be limited.
Always follow the staff instructions.
WHY IS THIS PRODUCT CORONA SAFE? 
Hand sanitiser available 
Encouragement of mask wearing can be compulsory. Bring it when you can
Reduced capacity and distancing measures on the vehicles/vessels
Staff will encourage visitors to keep distance
By buying the tickets all visitors  declare that they do not have cold-like symptoms such as nasal congestion, a runny nose, sore throat, light cough, fever (up to and above 38°C) and/or shortness of breath.
When you book a ticket, you automatically agree with our Terms and conditions.
Route - 60 min (See map here and timetable here)
Paseo de Colon, 
Plaza de España, 
Plaza de América,
San Jacinto / Triana,
Calle Castilla / Triana,
Exposición Universal (Expo 29),
Isla Magica, 
Macarena / Murallas,
Torre de los Perdigones,
Alameda de Hércules,
Plaza del Duque,
Plaza de Armas
Frequency: 
Every 20 - 30 minutes from 10.00 a.m. 
Audio guide is available in:
Spanish, English, French, German, Italian, Portuguese, Japanese, Russian, Dutch, Danish, Swedish, Chinese, Hebrew
By purchasing this ticket you also get:
- Free entry to Hospital de los Vulnerables 
- 30% discount at Torre de los Perdigones (valid on Lunch Menu only) 
- Free visit to Pabellon de la Navegacion
- 4 Free guided walking tours
- Free visit to exposure processional of Stmo. Cristo de las Tres Caidas
- Free entry to Iglesia del Divino Salvador
- Free visit to Castillos de San Jorge
- Free entry to the Semana Santa Museum
Ticket is valid all year! Buy your ticket online and skip the line!