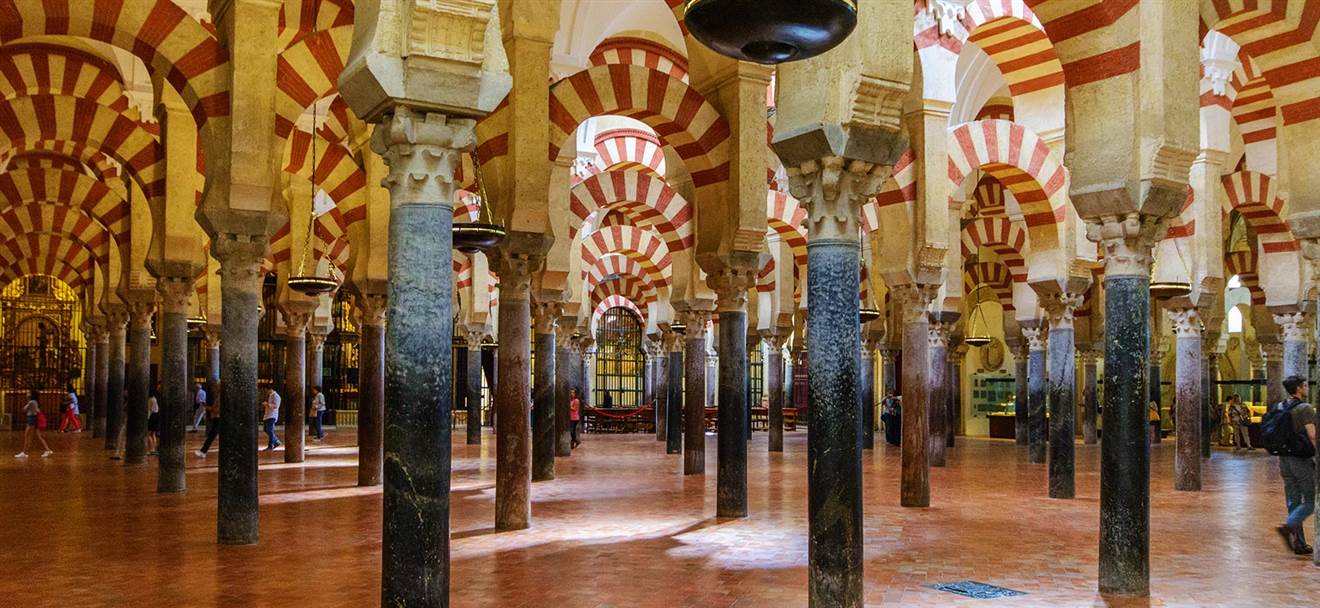 Cordoba, Caliphal City (SVQCORDB)
To product
The tour begins with a scenic one hour bus journey to Cordoba passing many beautiful cities such as Carmona, La Luisiana and La Carlota. 
We will then arrive at the city which once was the light of the world when it enjoyed the position of being a caliphate city. Cordoba offers an enormous cultural and historic legacy. We will visit the gorgeous Mosque-Cathedral declared World Heritage Site, which is considered the most important monument around the Islamic western. Its shimmering golden mosaics and an endless row of red and white striped arches make it a visual delight. 
We won´t miss The Christian Kings Alcazar, The Jewish Quarter with its narrow streets and whitewashed houses full of flowers and the only Synagogue in Andalusia. We will also walk along the lovely Calle de las Flores one of the most traditional places in Cordoba. Once we´ve explored all the Jewish Quarter secrets, you will have some free time to walk around by yourself, have a traditional lunch or do some shopping.
Highlights:
The Mosque of Córdoba was built during the Muslim empire and was reconverted into a Catholic cathedral. It is the third biggest mosque in the world and stands out for its hundreds of decorated arches and columns that hold its roof.
The Christian Kings Alcazar is a fortified area that works as a fortress and palace. The mark that left Romans, Visigoths, and Arabs are contemplated at the Alcazar's interior as well as magnificent gardens.
The Synagogue is located in the Jewish Quarter. Accessed from the street there is the courtyard that takes to the prayer's rooms.
Languages:
English and Spanish
Departures:
Monday until Saturday at 7:45 am
Departure point:
Excursions Office. Calle Zaragoza 1, Sevilla 41001

Duration:
approx. 10 hours
Inclusions:
Official Tourist Guide 
Entrance fees to the Mosque, Synagogue and Christian Kings Alcazar. 
Free time for exploring the Caliphal City.
Exclusions:
Lunch, beverages or other services not specified 
ADDITIONAL INFORMATION
Due to the length of the walking tour, we recommend you to wear comfortable shoes and drink sufficient water during the walk. The order of the visit can be changed to any unexpected circumstances. Please keep in mind that the excursion includes several visits on foot.